This post falls under the "I wish I'd thought of doing this" category…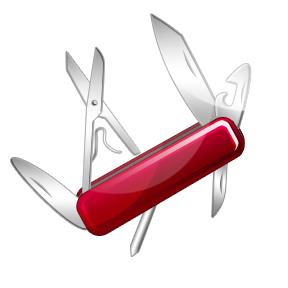 The Unclutterer, which describes itself as "the website for home and office organization," has a weekly segment called "Unitasker Wednesday." The disclaimer before each post reads, "All Unitasker Wednesday posts are jokes — we don't want you to buy these items, we want you to laugh at their ridiculousness. Enjoy!" The posts then go on to describe some outrageous tool or gadget (that usually has an equally outrageous price tag!) that is dedicated to only one use or purpose.
The Food Network's Alton Brown also rebels against 'single-purpose kitchen gadgets.' That said, the Gizmodo article Alton Brown: Kitchen Gadget Judgment Calls – Yea or Nay? cites some compromises…Apparently this is a hot topic on Gizmodo because we found 15 More Insanely Specific Kitchen Gadgets, indicating that there has been previous publication of others. (However, I do have to say that I have used the orange peeler in the past and found it pretty handy!)
Even Popular Mechanics created a list of Top 10 Wild Kitchen Gadgets You'll Use Only Once.
The topper for me is The Rachael Ray Garbage Bowl, which ranges in price from $19.99 to over $40.00. If you have followed Ms. Ray on television, you know that she keeps a container handy in which to toss peels, shells, trimmings and other non-edibles. Naturally, being that the US is a capitalist-based nation, SOMEONE had the brilliant idea to market this as an expensive "must-have" specialty product in and of itself!
We've all been guilty of succumbing to the infomercials featuring apparently convenient, time-saving products (my history includes a Tater Twister and Fry Baby). The irony with these gadgets is that while they professed to make our lives simpler and better, most of the time, they simply ended up as clutter.
What is the silliest single-use gadget you've purchased? Do you still have it? Why or why not?