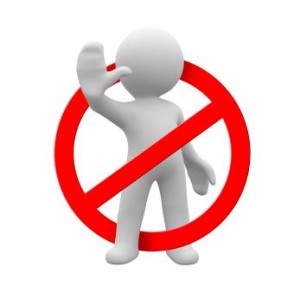 Believe me, I get it.
If you tend toward clutter, you probably have a lot of projects going at the same time. And, if you're a quilter for instance, you get all the fabric, cutting tools, patterns and other materials out and work on your project until you absolutely, positively have to stop to do something else (like get to an appointment, pick up the kids from school, cook dinner).
So you just walk away from the project, leaving everything all spread out because you really do plan to get back to it soon.
But you don't…
Because there is always something else you have to do. And your quilt stuff just languishes, often getting further spread out or moved around to make room for the other thing you have to do. As a result, you end up overwhelmed with clutter and don't know where to start. In fact, you have started, like 10 times over. And you end up feeling like you've made a bigger mess.
You're ready to throw in the towel, right? (Who will notice another towel on the floor anyway?)
It's time to stop clutter in its tracks!
So what's the solution? It boils down to one simple secret.
Put things away.
I know – boring, right? I mean, what's the point of putting the stuff away when you are going to work on it again? And besides, it's not going to make a difference in the appearance of clutter, so why bother?
But it does make a difference. And here's why:
When you develop a habit of putting things away, it has a ripple effect.
First of all, you become more mindful of time so that you can put things away before you walk away.
When you are more mindful of time, you are less likely to be late to your next appointment…
…When you are not late for your appointment, you feel less stressed…
…When you feel less stressed, you feel more in control…
…When you feel more in control, you make better decisions…
And when you make better decisions, you create less clutter.
I have good news for you! Putting things away is not as difficult as you may think.
Before you get all upset with me because you don't have room to put things away, please keep reading. When I refer to putting something like a quilting project away, I suggest you use a project box. If you keep all the tools and materials you need for your project in something like a plastic file box, you keep everything together in the same place (the box) so that you can easily get back to your project when you are ready. When it's time to move to a different task or project, you can toss everything right back in the box. And it's easy to relocate your project if you need the space for a different purpose.
Other things to put away include:
Your clothes at night: Don't just throw them across a chair or on the floor; either hang them up or put them in the laundry hamper (I don't care if you are ankle deep in other clothes on the floor, start your new habit TODAY with TODAY'S clothing items).
Your toothbrush and toothpaste: Use one of your 50 coffee mugs taking up space in the kitchen cabinet to hold your toothbrush and toothpaste. It looks nicer than just leaving them on the bathroom counter.
Your purse or wallet: Always put your purse or wallet in one specific place when you are home (for example, always hang your purse inside the entryway closet; keep your wallet inside the right corner of the top dresser drawer). You'll never again have to tear the house apart looking for them!
Sandwich fixings: I know – you're famished! But by developing the habit of putting away the bread, mayo and lunchmeat, as well as rinsing your knife and putting it in the dishwasher, you are on your way to less clutter (and less risk of food poisoning!).
The mail: Use a decorative box or basket to hold the mail until you are ready to look through it. When you do sort it, you'll also want a specific place to put bills to be paid, magazines to be read and correspondence to answer.
Your shoes: Just like your purse, designate a specific place to put your shoes instead of just kicking them off anywhere.
The point is to stop adding to the clutter and make life easier on yourself by putting things where you expect to find them when you need them.
This is part of what I call "acting as though your systems are in place." Not only do you establish good habits, you no longer add to the clutter and disorganization. So when you are finally ready to tackle the backlog of clutter, you don't have to worry about new stuff building up.
What one thing are you going to practice putting away in the coming week? Let us know in the comments!