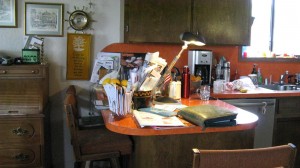 You had the best of intentions (again)…
Today was THE day – you were finally going to tackle all the crap in the kitchen…
…and the living room…
…and the family room, and the bathroom and the kids' rooms…
You even got started (sort of). You dressed in your "cleaning clothes" (sweat pants, oversized t-shirt); got 4 empty boxes from the stash in the garage so you could sort everything out and were determined to make headway with the clutter. You'd show everybody!
And thirty minutes later you're in tears (again).
It just seems so hopeless…
It's easy to be overwhelmed when you start to declutter your home. When everything's a mess, it's hard to know exactly where to start and you never do seem to make much progress.
The Easy Wins
In order to build momentum, you want to go for easy "wins." Once you start the process of tossing things, it becomes not only easier, but more fun to get rid of things. To help you get started, here are 5 ridiculously simple areas you can declutter right now:
1. Expired food. In my slob days, the only money I felt justified spending was to buy groceries. I'd stock up on canned goods that were on sale (because it was such a bargain) and would end up with a pantry full of food that we didn't use. Many times I would find that the stuff was out-of-date and even if it MIGHT still be safe to eat, I wasn't going to take the chance!
Forgive yourself for the waste, toss the expired stuff and donate the food items that have not expired (but you're never going to eat) to your local food bank. You will be amazed and delighted with the results in your kitchen.
Tip: From now on, avoid grocery shopping without a list and buying on impulse. Don't buy "just because" you "might" use this or that; have a specific plan for using everything you toss in your cart.
2. Unfinished projects.I'm a craft junkie. I just love learning new skills like knitting, cross stitch, painting, quilting, wood-burning. I like being creative. The problem is that I also get bored easily and then go after the next bright shiny object on the horizon.
I had bags and bags of yarn stashed in the attic but, like the grocery buying, had no plan how to use it. If I did find a pattern that looked promising, the chances were pretty good that I didn't have enough of the required yarn to complete that project.
The "ah-ha" moment came for me when I came across a partially finished baby sweater – and my "baby" had graduated high school just a few weeks prior. It was time to acknowledge that this had to go. I took my entire stash of yarn to the ladies group at our church who knit baby garments for the preemies born at our local hospital. What a relief to be rid of all that yarn!
I finally felt fee. You can too. Unfinished projects are anchoring you to the past. The longer you hang on to them, the less likely you are to pursue activities that interest you NOW.
Tip: Donate art supplies to your local Boys and Girls club or offer them to the teachers at your kids' school.
3. Magazines. Do you have a stack (or three or four) of magazines that you plan on going through, but never find the time? Donate all but this month's issues to a local senior center. And if you can't find the time to read through the current issues, it's probably time to cancel your subscriptions.
Tip: Most publications have an online edition so you can find the article or recipe that caught your eye at the checkout stand by going to that magazine's website.
4. Clothes that don't fit any more. Get rid of any clothing items that you don't like, that don't fit or that simply aren't flattering. Chances are you don't wear these things anyway, so why should they continue to take up closet space?
You say you are planning to lose weight? Great! But why not choose a new wardrobe when you've reached your goal?
Tip: Set a timer for ten minutes and try on slacks one day, tops the next and dresses another day. Put the rejects in a bag or box, put it in the car and take it to your favorite charity as soon as you can.
Bonus Tip: Turn all your hangers around the "wrong" way. As you use clothing items, hang them back up the "right" way. At the end of, say, six months, check out the things that haven't been touched and evaluate whether you really want to keep them.
5. Gifts you've never used. We all receive gifts that we don't like or can't possibly use. If a particular gift can't be exchanged for something you really want, just accept with thanks and then re-gift it to someone you know will love and appreciate it.
I know what you're going to say, your mother-in-law will never let you hear the end of it if you don't keep the ugly vase she gave you. It has to be predominately displayed in your home at all times or else!
Or else what?
What are the real consequences of letting go of things you don't enjoy, no matter who they are from? If you can live with those consequences, give those things away. If not, keep them.
Tip: Remember, this is YOUR space. Don't allow things you don't like or need rob you of the enjoyment of your home.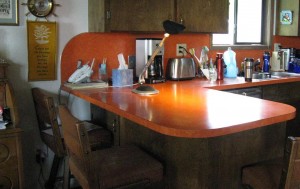 Ready to get serious about decluttering?
Finding the time and the motivation to declutter can be a challenge. But it's not impossible.
By going for the easy "wins," there is a snow ball effect. Once you've started the process of decluttering, you will soon find that you actually enjoy the act of parting with things you no longer want or need.
Every day that slips by keeps you anchored in the chaos.
So find the stuff that's easy to declutter and start the process.
It doesn't take much to get you going; begin with the no-brainer stuff.
Go on. Get started today. Show everyone — especially yourself — that you're serious about taking back your space. The best part is that as you get rid of "things,"  you'll find more time and energy!
How awesome is that?
Need some encouragement as you are decluttering? Use the comments section below to let us know your progress!