It's Monday AND it's the first day of the month! Those of us who tend toward disorganization love when that happens because it feels like we get a fresh start; it's like having a clean sheet of paper. In our thinking, the possibilities are suddenly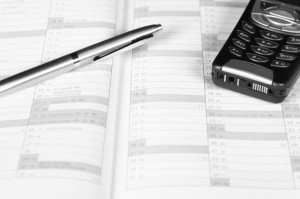 endless and THIS TIME we are going to be successful in our efforts to be productive and organized.
And then the glitch comes. It could be anything – a phone call from a friend, interesting articles on Facebook posts, or, as happened here this morning, a power outage. Whatever it is, it seems designed to throw a curve at our attempts to FINALLY BE ORGANIZED. So we give up. Like Scarlett O'Hara we'll think about it tomorrow because tomorrow is another day…
And just like that, our fresh new start turns stale and we toss it away.
I've learned that productive people do not think this way. My husband, Angelo, has had a successful home-based business for over 35 years and it has supported us as a family for almost 20 years. I've been able to observe how he operates and have learned a few things.
1. While I'm all about "perfect timing" and clean slates and fresh starts, Angelo doesn't worry about what day it is or what time it is. He first focuses on WHAT needs to be done and then decides WHEN to do it.
2. Angelo, as indicated above, focuses. Not having been "born organized" it is more challenging for me to stay focused. I get bored easily doing repetitive tasks and so tend to jump from one thing to another, leaving a host of unfinished projects in my wake. But, just like someone who is left-handed, dyslexic or ADD/ADHD, I have to adapt. A timer helps keep me focused, as does keeping a list of things that need to be done (watch for a future post on lists!).
3. Angelo knows when he is finished for the day. This is a huge obstacle for many of us who work from home. Angelo has an established quitting time each day and "closes down" the office by clearing his desk and checking his calendar.
4. Angelo reviews everything that is in process on a daily basis. Very little falls through the cracks for him. I used to have the very bad habit of assuming that others would follow through, but they often don't, especially when it comes to paying their bills!
When we operate on a productive level such as the one Angelo models, we are much less stressed. Angelo, unlike us who are disorganized, doesn't try to remember everything (he has a system of sticky notes that works for him), nor does he try to "do" everything. He is selective and deliberate, saying "no" to things that would detract from his productivity.
Have you already given up on October because you didn't get this first day done the way you imagined? Don't! Start right now – get up and get one thing done that was on your list and post your success in the comments below.
Brenda Spandrio, The Declutter Lady