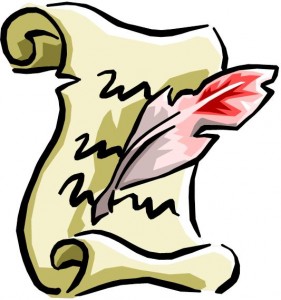 In keeping with National Book Month, I've been considering different authors whose works have given me insight into decluttering and organizing. Yesterday, I mentioned how Louisa May Alcott's "Little Women" has helped jump-start some of my clients' decluttering projects. Today, I remembered a CS Lewis passage in The Screwtape Letters that, when applied to time management, hits pretty close to home:
"You no longer need a good book, which he really likes, to keep him from his prayers or his work or his sleep; a column of advertisements in yesterday's paper will do. You can make him waste his time not only in conversation he enjoys with people whom he likes, but in conversations with those he cares nothing about on subjects that bore him. You can make him do nothing at all for long periods. You can keep him up late at night, not roistering, but staring at a dead fire in a cold room. All the healthy and outgoing activities which we want him to avoid can be inhibited and nothing given in return, so that at last he may say, as one of my own patients said on his arrival down here, 'I see that I spent most of my life in doing neither what I ought nor what I liked..'" (from Chapter XII, The Screwtape Letters by CS Lewis)
Unfortunately, that last line applies to me more often than I like. Don't get me wrong; I'm not worried about going to Hell if I wasted time watching laughing babies on YouTube or googling long-lost friends. What bothers me is that there are a lot of things I would really enjoy doing, but I don't because of all the things I should get done — but I don't do either, as CS Lewis pens.
It goes back to the admonishments of childhood: You can't play until your chores are done. Back then I moped and stalled and rebelled, which took a lot more time than cleaning the bathroom would have; and I still mope, stall and rebel. I've just gotten more subtle about it!
What amazes me is that when I do sit down to knit or to read (either of which I'd love to do all day long), guilt floods over me and totally distracts my enjoyment. Yet, when I go to play "just one more game" of Solitaire, that same guilt is barely a mist. I haven't been able to figure that one out.
Of course, maybe the devil made me do it…
Do you "waste" time doing things you enjoy or does "nothing" distract you from what you ought to do? Post your comments below!