"Next morning, Meg did not appear till ten o'clock; her solitary breakfast did not taste nice and the rooms seemed lonely and untidy; for Jo had not filled the vases, Beth had not dusted, and Amy's books lay scattered about. Nothing was neat and pleasant but 'Marmee's corner,' which looked as usual and there Meg sat to 'rest and read,' which meant yawn and imagine what pretty summer dresses she would get with her salary..." (from "Experiments," Chapter 11 of  Little Women by Louisa May Alcott)
Meg wanted a refuge amidst a house that was cluttered and uncomfortable. Because mother Marmee had maintained her little corner, Meg found such an area and settled there.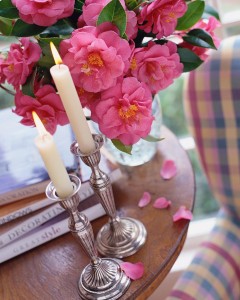 When I work with clients, I often ask if they've read "Little Women" (my all-time favorite book; I treasure the copy that my grandmother gave me on my 16th birthday) because my first "homework" assignment is to create a "Marmee's corner" for themselves — a "neat and pleasant" place to "rest and read." This could be a comfortable chair in the living room, the nightstand by the bed, the dining room table; it's just one small spot to be kept clutter free for one whole week.
The usual reaction I get is that of skepticism and cynicism. How can clearing one little area help with my overwhelming clutter issue? But the fact is everyone needs a peaceful place to which they can retreat. If you don't have such a place at home, I guarantee that you are avoiding being home as much as possible.
At first, seeing this clear area is uncomfortable; it may seem bleak and barren because you are so used to visual clutter. After a week, however, you will find that you have "rebooted" your psyche and that you actually enjoy the serenity of open space. That is the beginning of conquering clutter in other areas, too.
Do you have a "Marmee's corner?" If not, will you create one today? Post your questions and comments below.
Brenda Spandrio, The Declutter Lady