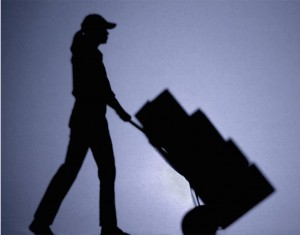 You don't have to be a depression era survivor to squirrel away bits of string (no matter how short), bent nails (they can be tapped straight – more or less) and the odd pot lid (you never know when it will come in handy!). However, one of the first steps to take toward decluttering is to stop the inflow of stuff. That is a difficult assignment for most of us who tend toward clutter because we see potential use and value in nearly everything.
Here are five sources of "stuff" to avoid if you are trying to succeed with decluttering:
1. Warehouse stores: Just because you CAN buy tomatoes for 8¢ cheaper per can does not mean it is necessary to purchase a package of eight SIMPLY because the unit price is less than the local grocery store. If you only need (or only have room for) one or two cans of tomatoes, just buy one or two cans!
Stop permitting your home to be the warehouse.
2. Online shopping: We used to have to leave the house to obtain the majority of our clutter. That tended to be somewhat inconvenient, but we certainly found it doable, which is why we have so much stuff to begin with. Now we have the ease of internet shopping. Sites not only keep our purchase information and preferences on file, they give us amazing discounts with their "Deal of the Day," which ends very soon, so you better buy NOW because this special pricing will NEVER be available again.
Yeah, right…
Go on a shopping fast – don't buy anything for at least a month while you are actively decluttering.
3. Garage sales: While internet deals can be incredible for new stuff, garage sales seem to offer even better bargains. And lots of it seems almost new. Why would anyone want to pass up such an opportunity? I like what Pam Young and Peggy Jones, the Sidetracked Home Executives have to say about that: "One man's junk – is another man's junk, too!"
Pass up the garage sales until you have significantly decreased the stuff you have in your own garage.
4. Gifts: People give "stuff" as gifts. Sometimes it's nice stuff that we really like; sometimes not so much. Some people are very talented about gift-giving and others are, well, not so much. As recipients, we dream that those we love know us so well that they will give us the kinds of things we long for without needing to be told. That's rare. If you are serious about wanting to declutter, TELL those around you exactly what you want and need.
And if you are REALLY serious about decluttering, tell them you prefer gift cards to restaurants, coffee shops and theaters!!
5. Stuff from other people: Occasionally friends and relatives decide that we could really use a particular item that they don't want or need any more. It's "still perfectly good" (more or less), too good to throw away. Perhaps it belonged to a great aunt or an in-law. Guilt drives them to give it to you instead of donating to a local thrift store or even just putting it in the trash. But your home is neither a thrift store nor a dump.
So politely decline the offer – or accept it if you feel obligated, but then go ahead and dispose of it as you see fit.
These are five of the most common sources of clutter. What are some that we missed? Let us know your tips for preventing the inflow of clutter in the comments below.