My friend and colleague Jason Womack, who wrote the best-selling Your Best Just Got Better, often talks about "MITs" – Most Important Things.  Jason works primarily with corporations, so those of us who work from home, either as solopreneurs or full-time parents, tend to dismiss his expertise.
The simple fact is that anybody who wants to accomplish anything productive needs to establish priority and focus in order to be successful.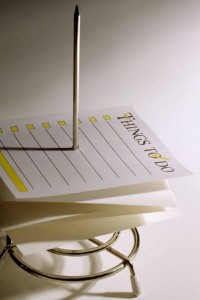 On The Declutter Lady Facebook page we often ask what three things you plan to accomplish that day. (Jason was our influence for choosing three, as outlined in his article Put attention on the MIT's – the Most Important Things.) That doesn't mean we only have three things that must get done! It's really more like three HUNDRED in any given day…
So how do you decide your MITs?
Jason also wrote Here's how to prioritize for success, which has some great suggestions. But in the end it is not so significant WHAT you do as THAT you do SOMETHING. Those of us who tend toward disorganization are also perfectionists. We want to be sure that we are doing the right thing at any given moment. However, we are unsure what that is and usually end up spinning our wheels, getting no traction, wasting time and energy fretting instead of taking some kind of action.
We only progress if we start to move. And rest assured! If you are not engaged in a priority activity, a little voice will start to nag you. Pay attention to that voice. Is it a distraction because you don't want to be working on your current task or is that voice directing you to a "must do?"
My three MITs today are: Laundry, publish a blog post, and complete today's Problogger lesson. Interestingly enough, this blog started out as a Facebook post. I had scheduled my blogging for later, but I listened to that little voice and now one of my MITs has just been checked off for today!
What are your three Most Important Things for today? Let us know in the comments below, along with how you cope with distractions.