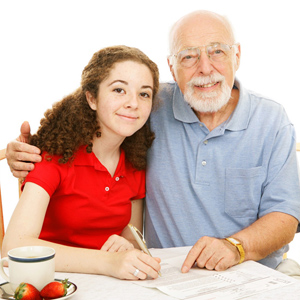 "You Matter to Me Day" is celebrated October 7. This has become an annual event of acknowledging the people who matter to each of us, created by Linda Jew in 2010 after having lost a friend and colleague in an accident that also claimed the life of her friend's son.
We often neglect to let people know that they do, indeed, matter to us as we go about our busy lives. We assume that they know, after all we "Like" their Facebook posts and follow them on Twitter. And we often think about getting together for coffee sometime. But that stuff doesn't count.
My grandmother is 104 years old (she'll be 105 next February). For a long time I kept thinking that I should write to her, but then I got hung up on what kinds of things I'd write to her. As it turns out, she just wants to hear from me. So I write about what I cooked recently, tell her what I've heard from my kids and maybe what I've watched on TV and what the weather has been like. I always insert a few pictures. In the end, it's not WHAT I write to her; it's THAT I write to her. (By the way, I write instead of call because Grandma's hearing is very bad) According to my aunt who sees my grandma all the time, she treasures those letters.
"You Matter to Me Day" is a reminder to me to contact a friend with whom I graduated high school back in 1979. I went to junior high with him and his (now) wife, too. Last June, he was diagnosed with a brain tumor and, despite aggressive treatments, the outlook is rather bleak. However, he and his family have a strong faith that is very inspiring. I remember Kevin's droll humor and insatiable need to learn.
There are a lot of people who matter to us – mentors, teachers, coaches, neighbors. When was the last time you told one of them?
Make somebody's day today; tell them "you matter to me." Post your story below in the comments.
Brenda Spandrio